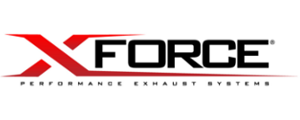 To find the product you are looking for please visit catalogue pages of XForce. When you know your product number you can enter it in "search" field on our website and view availability of it.
If you are registered customer with Ozparts you can login in to this website or our Customer Center and check pricing, availability as well as process quotes and orders.
To register as new customer – please fill out new customer form
XForce – Performance Mufflers & Exhaust Systems
XFORCE focuses strongly on research and development which ensures that their diverse range of exhaust products are of powerful engineering precision, stylish and practically designed to maximize performance and most importantly, technically innovative such as our patent VAREX™ Muffler application which in itself, is an exhaust revolution.
The focus on innovation and extensive quality control enables XFORCE to provide you with outstanding performance values when it comes to your exhaust. XFORCE is heavily involved in continuous research and development that combines powerfully with our manufacturing advantage in exhaust production and automotive engineering. Their exhaust systems are specially designed and dyno tested by our state-of-the-art Dynapack Evolution 3000 chassis dynamometer machine, for proven maximum performance in our R & D centre in Australia.
Learn more about XForce features in the following video:
More video about XForce features found on YouTube